Her Majesty The Queen's New Year Address 2018
Her Majesty The Queen's New Year Address 2018.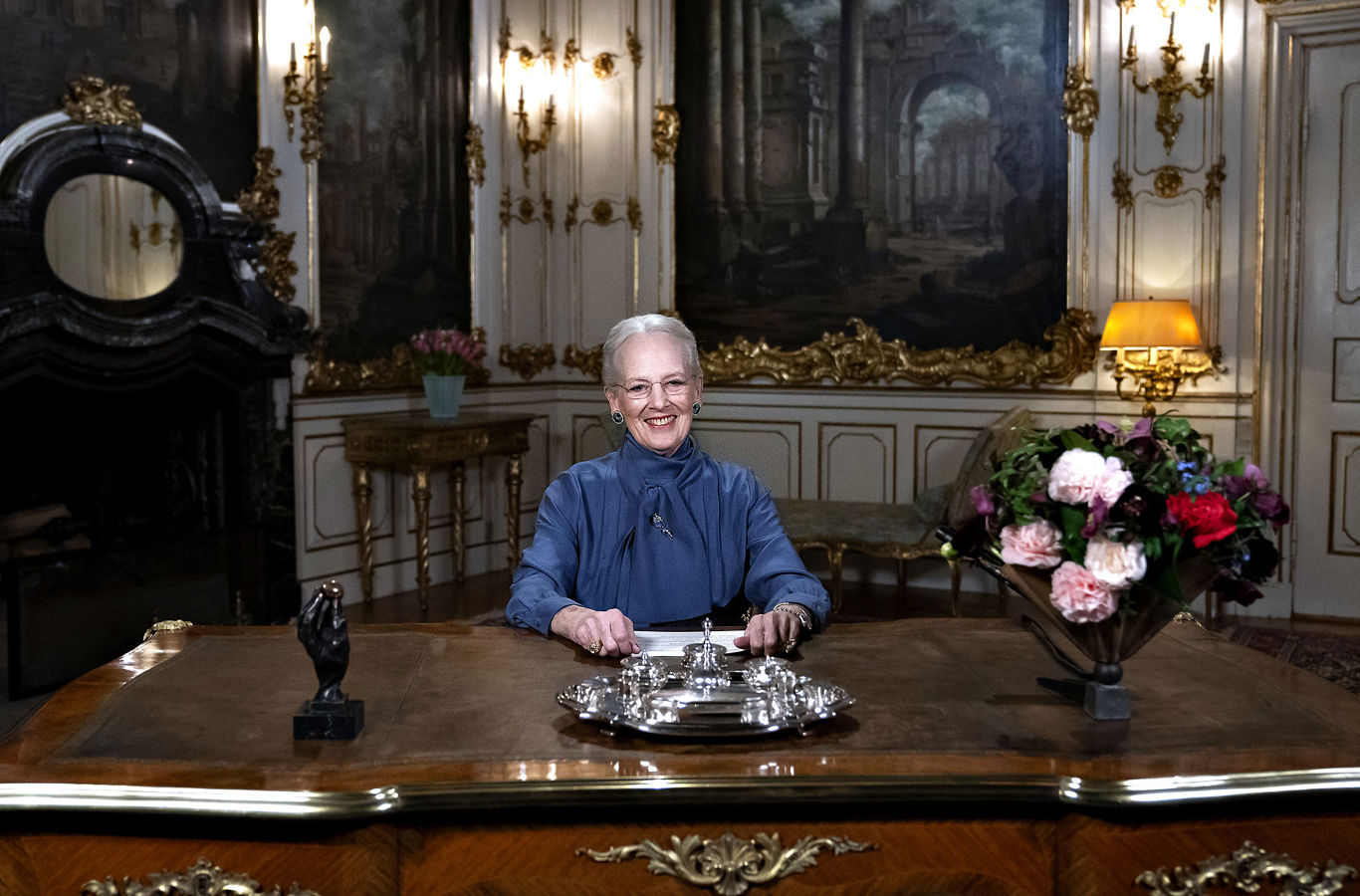 It is New Year's Eve once again!
When the clock strikes twelve at midnight, the old year comes to an end. At that very moment, we toast the new year and wish each other "Happy New Year".

On New Year's Morning, we wake up to embrace new days. They lie ahead of us, waiting for us, but the time that has passed lies behind us.

And yet – all the things that happen to us leave an impact and provide us with experience, good and not so good. We must carry that experience with us further in life.

These years we are witnessing economic progress in Denmark. Our companies feel it, the Danes feel it and are steaming ahead. Economically, Denmark is doing very well, but we must also take the time to consider what this good fortune is doing for us and doing to us. Is economic progress also translated into social progress?

Our country is becoming richer. But are our lives becoming richer?

Many people experience that the pace of day-to-day life has increased, also more than all can keep up with. There is so much that needs to be done, both at work and during leisure time. Perhaps we create some of the demands ourselves. We do not want to miss out on anything – we want it all, and preferably at the same time.

In our hurry we may become too keen on being in the limelight. It is as if more people say, "look at me" and fewer have an eye for others.
I fear that reflection and consideration may be pushed back and forgotten.
New technology has created altogether new opportunities for contact with others. It is possible to FaceTime with one's children and grandchildren even though they are on the other side of the globe; it is a source of great joy to all parties. However, new technology may also result in the contact becoming more impersonal – we are "online" all the time – and we forget that, actually, there is a human being at the other end. It is so easy to write a comment or share a photo on social media that may be offensive and leave deep scars. That sort of thing goes into cyberspace, spreading like swarms of flies.
I find there is a tendency that our way of spending time together becomes more superficial, less attentive. We do not take the time to understand each other and we forget to respect each other and take care of each other.
It also affects our children.

There are probably some children who are also watching tonight?

To you I would like to say a few words:

The important thing is not how you look or what you have achieved. But who you are and how you behave towards others – your friends and schoolmates; if you are so busy achieving what is best for yourself all the time, you fail to see how others are doing.

You need to take the time to notice if a friend is unhappy. There must be time to understand if you have said something that hurts a friend, or you have teased someone too much. It is important to patch things up again then.

This does not apply to children only; we who are adults should also bear it in mind.

Trust develops when we meet person-to-person and speak with each other.
We may well disagree. We are entitled to that. It is part of reflecting and forming an opinion. But we must always listen to each other and try to understand each other.
This applies throughout our society.
Our common strength is nurtured when we feel respect for our fellow human beings and place trust in each other, for we all have a responsibility for the community. This is the very roots of our society.

If the roots are not healthy, the tree cannot stand, and it will take many years for a new tree to grow tall and strong.
Therefore, it is serious if people who represent an important part of our society take their responsibility too lightly and fail to meet their obligations. Is this something we have seen recently?
Those entrusted with high positions carry a special responsibility and a special duty to do their best where they are placed.

It makes me very sad if morals decline. What is to become of common decency then? We must be able to distinguish between what is yours and mine, between right and wrong. It ought not to be that difficult.
It is a matter of concern to more and more people that our lifestyle affects the environment and climate change.

Companies have green strategies, Wind, sun and biomass provide us with cleaner energy. At home in the kitchen we sort waste. Many buy organic products.

It is probably the young who are leading the way. They understand that the problems of the future will become theirs. They - unlike us older people - do not want to get stuck in old habits.
Therefore, we must listen attentively to the young when we discuss how to avoid challenging the balance of nature.

We must give consideration to the future. We must give the future careful thought in time.
In Greenland the ice is melting. There, the changes are also conspicuous.

There, in the high north, people live close to nature. Wind and weather, snow and ice are something all are dependent on throughout the year. These years, nature is generous. The fishing industry is doing well. That generates progress.
It is my hope that the good development in Greenland will continue, and that this vast country will become better integrated and more closely linked to Denmark and the world at large.

I send my warmest New Year greetings to everybody in Greenland.

This summer the Crown Prince and the Crown Princess together with their four children visited the Faroe Islands.

They encountered a modern society with high growth and development, but also a people that is aware of who they themselves are. Faroese people are characterised by a directness, hospitality and warmth that I remember from the visits Prince Henrik and I paid to the country.

Tonight, I wish to say a big thank you to everybody who contributed to making the visit to the Faroe Islands a unique experience for the Crown Prince, the Crown Princess and their children.

I wish everybody in the Faroe Islands a happy New Year.
I send special New Year greetings to the Danish minority in South Schleswig.

There, Danish culture and language live in peaceful co-existence with the German majority. In a world where so many border regions are characterised by conflicts of interest and sharp viewpoints, exactly this region serves as a fine example which both Danish and German institutions and associations can be proud of.
Tonight, my thoughts also go to the Danish soldiers, police officers and specialists who are posted abroad. There are not so many this year, but they matter, each and every one of them in the places where they serve, in countries like Iraq, Afghanistan, Kosovo, and the Baltic States. They are missed at home. We think of them and wish them a happy New Year.
I also send my New Year greetings to all Danes who live outside Denmark. Regardless of whether they are staying abroad for a short while or have settled, perhaps for good, they contribute to representing Denmark.
It is far from all who are off duty tonight.
Here in Denmark, the Emergency Management Agency, the Police, the Defence and the Fire Brigade are on duty. They see to it that the rest of us can celebrate the new year safely and securely.
On buses and in taxis, on trains and planes, and on-board ships, it is not possible to be off duty on such a New Year's Eve. Also, many are on duty at hospitals, nursing homes, and other institutions where they make sure that New Year's Eve is safe and festive. Many volunteers choose to hold the New Year celebrations at hostels and other shelters where they turn up to make the evening festive for those who are most alone and find life hard.

I send New Year greetings to the many who are working for us all tonight.
I cannot look back at the year that has passed without mentioning the death of Prince Henrik. We spent 50 years together, we had two sons, and eight grandchildren have been added to the family – we were given all that, and much more. The warm sympathy shown us, and the understanding of Prince Henrik's contribution which was so beautifully expressed by everybody in Denmark upon his demise have warmed the hearts of us all, including his family in France. Once again, I wish to express my deep-felt gratitude.
Crown Prince Frederik celebrated his 50th birthday this year. He decided to celebrate it in quite his own way. A big thank you to the many thousands, both grown-ups and children, who participated in the Royal Run, either by running the route or – like myself – by cheering on the runners.

It was a fine day that made him both happy and grateful, and which made me so proud.
The Crown Prince, the Crown Princess, Prince Joachim and Princess Marie and my eight wonderful grandchildren together with me have so much to say thanks for. We all feel the warm support which we encounter everywhere, on special occasions, as well as in day-to-day life.
Life brings us both sorrows and joys.
Let us welcome the new year with reflection and consideration. Let us carry our experience – good and not so good – into the new year and let us embrace the year in a spirit of hope and confidence.
I wish you all a happy New Year!
GOD BLESS DENMARK