Queen Elizabeth II's Knight of the Order of the Elephant escutcheon
At 12:00 today Danish time, Queen Elizabeth's funeral takes place at Westminster Abbey in London. Her Majesty The Queen and His Royal Highness The Crown Prince participate from Denmark, and the flag is being flown at half-mast at Amalienborg.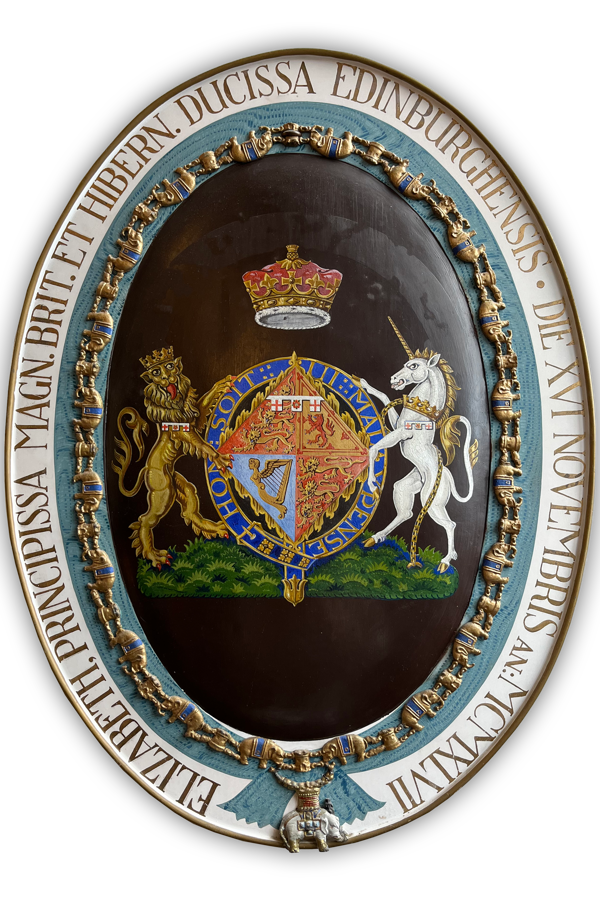 As the then titled Princess Elizabeth of the United Kingdom of Great Britain and Ireland, Duchess of Edinburgh, the late queen was given the insignias of the Order of the Elephant in November 1947; that is to say, Princess Elizabeth received the badges of the order (the elephant and the breast star) without having been knighted. In 1958, when Frederik the 9th (in connection with the then Danish heir to the throne's 18th birthday) established by royal rescript that women as well as men should have access to receiving the Order of the Elephant from that point forward, it was then retroactively determined that Queen Elizabeth's appointment as a Knight of the Order of the Elephant should be counted from 16 November 1947 – the same day as her husband, Prince Philip, Duke of Edinburgh, became a Knight of the Order of the Elephant.
When the Order of the Elephant is returned to the Chapter of the Royal Orders of Chivalry after Queen Elizabeth's funeral, it will thus have been in active service for nearly 75 years.
In the Chapel of the Royal Orders of Knighthood at Frederiksborg Palace, the royal coat of arms of The Princess (later The Queen) was hung. The quarters of the coat of arms represent, respectively, England (the three lions), Scotland (the upright lion inside a bordure of lilies) and Ireland (the harp). Overlaid upon the coat of arms and the supporters are so-called labels containing two crosses and a rose, which indicate that this version of the British royal coat of arms is Princess Elizabeth's. The text-bearing garter that encircles the coat of arms contains the motto of the highest English order of chivalry, The Most Noble Order of the Garter, "Honi soit qui mal y pense" – "Shame on him who thinks this evil".
The lion and the unicorn that support the coat of arms represent England and Scotland, respectively. The coat of arms is crowned with the special coronets of rank for the British monarch's sons and daughters.