The New Year's Address 2019
Her Majesty The Queen's New Year Address 2019.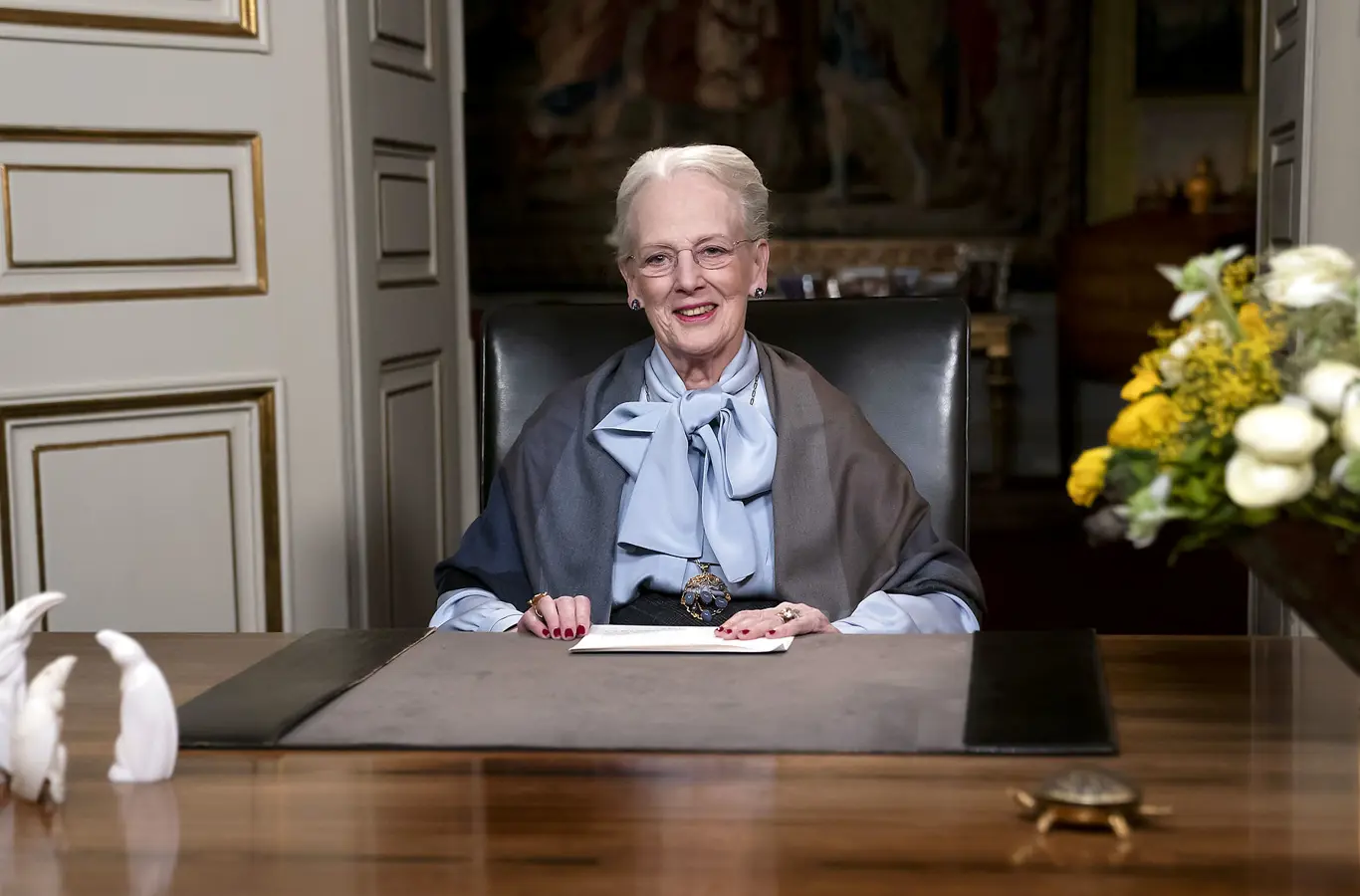 Another year has gone by. 2019 lies behind us now with all that it brought us: memories that will endure, good as well as sad ones, and challenges we had to take on, difficult as well as stimulating ones.
This year, it is 50 years ago that man landed on the moon, and we were able to see our own planet, Earth, as a small globe in outer space: quite alone, but so beautiful and round and blue - the blue planet where we belong. For us here in Denmark, it is perhaps not so surprising that the planet is blue. After all, we have the sea in front of us and the blue sky above us.
Regardless of how grand and varied it may seem, our Earth is vulnerable. We are in the process of realising that, and it gives rise to concern, not least among many young people who see the climate change effects that are clearly visible these years. We have a shared responsibility for our beautiful globe, so teeming with life. It is an essential challenge to us all today, and it is important that we all pay attention to how we live and what actions we take.
In our age, a feeling has emerged which may be difficult to talk about. However, we must put it into words in order to defeat it.
Loneliness: it is a feeling that many experience. Not only socially vulnerable people. Also elderly people who see their spouses or their contemporaries pass away – what happened to them, all those who used to fill everyday life. But also children and very young people may experience loneliness. Who wants to play with me? Who can I talk to? Not just on Facebook, but in real life: face to face, in private with a friend of the same age or with someone who is older and who one can confide in. Someone to share one's thoughts with.
We need to talk together, also about loneliness. We need each other. We need to have it confirmed that we matter.
2020 will be a year with a great many things to remember. On 9 April, it is 80 years ago that Denmark was occupied. An event that came to influence all those who experienced it, and which has left deep traces in the consciousness of Denmark. Five years passed. But then the Liberation came on 4 and 5 May 1945. It filled everybody with euphoric joy, which was also felt by those who like me were only five years old. But not all could share in the joy, for the Island of Bornholm was subjected to heavy bombardment that left the towns of Rønne and Nexø badly damaged and resulted in a tragic loss of civilian lives.
It is a long time ago, and those who experienced the events of the time have almost all passed away. Nevertheless, it is five years that continue to be remembered, also with pride, for the spirit of solidarity and self-sacrifice that showed what we in Denmark are capable of. We must continue to stand guard over the values we fought for and which remain the foundation of our society. It is disgraceful to see how anti-Semitism raises its ugly head once again, also here in our country. Anti-Semitism, intolerance and repression of people who think differently – it has no place in our society. This is something we must pay close attention to, and which we must help each other to counter.
On 10 July, we shall celebrate the centenary of the Reunification of South Jutland with Denmark. Reunification Day became a landmark day, not just for the people of South Jutland but a day that involved all the people of Denmark. In the thousands, from all over the country, people flocked south to see King Christian X ride across the border on the white horse. Many may feel today that it is a distant event, but ask the people of South Jutland: they know that a page was turned in the history of Denmark on that day. It will be fine for us to celebrate that when we reach the anniversary, and we will celebrate it.
In late summer, I visited Schleswig-Holstein where I received a warm and festive welcome, which contributed to confirming the strong neighbourly relations and good friendship between Germany and Denmark.
It also became an unforgettable meeting with the Danish minority.
You did not come home to Denmark 100 years ago. However, Denmark is and will continue to be the country of your heart. I was moved to hear that, also from the young generation. I shall never forget that!
It is thanks to both the Danish minority in Germany and the German minority in Denmark that the border country has developed so harmoniously and peacefully over the years. It has come to serve as a model for the rest of the world. I send my warm New Year greetings to everybody in the border country.
While the ice around Greenland is loosening its grip, the world's attention is increasingly turning towards the country in the high north. That country and its people are very close to me and the heart of my family. We always follow events and developments in Greenland, and you are in our thoughts, both when there are difficulties and when you address the problems with confidence. I wish everybody in Greenland a good and happy New Year.
My thoughts also go to the Faroe Islands on the last evening of the year. Also from there, my family and I have warm and good memories. With tireless persistence you have managed to overcome many of the difficulties facing a society that is geographically isolated and exposed to the forces of nature. I send my heartfelt New Year wishes to everybody in the Faroe Islands.
Under distant skies, our Danish soldiers who are posted abroad contribute to freedom and stability. We must remember that on this evening when they are particularly missed at home.
I send my warmest greetings and good wishes for the new year to all who are posted abroad and to their families.
It is not only in other countries that Danes are on duty. My New Year greetings go to everybody in the defence, the emergency management services, the police, the health care sector and all others who are at work this evening and tonight. Men and women who all attend to their duties while others are off work and can celebrate New Year safely and securely.
Wherever in the world one goes, one will encounter Danes. In spring, I visited Argentina. Also in that country there are many who have Danish roots and who hold on to this heritage. To them and to all others with Danish roots, wherever in the world they are, I send my New Year wishes with a "thank you" for their loyalty to the old country.
Every day, my big family makes me happy and proud. The Crown Prince and the Crown Princess have plenty to do, and at the same time they manage to create a warm home for their four children.
Prince Joachim and Princess Marie together with their two children are in Paris, where Prince Joachim is receiving additional training at the French military academy. At the same time, I have enjoyed watching his talks about Danish history on TV. I knew he would be good at it.
In the new year, Prince Christian's confirmation will take place. He will soon be a young man with life ahead of him. I shall celebrate my 80th birthday. I have many years behind me.
I am grateful for all that the years bring me, and for all the warmth that I and all my family continue to be met with. It is a source of inspiration as well as an obligation.
We are standing at the door of the year 2020.
We do not know yet what it will bring. We open the door a little, it is like making a new acquaintance with new opportunities. We all have plans, big and not so big plans, and wishes, more or less attainable wishes. Let us enter the new year together. I wish everybody a happy New Year. May it become a good year for Denmark.
GOD BLESS DENMARK