The Royal Danish House's Annual Report 2017
Today, the annual report on the Royal Danish House's activities in 2017 is released.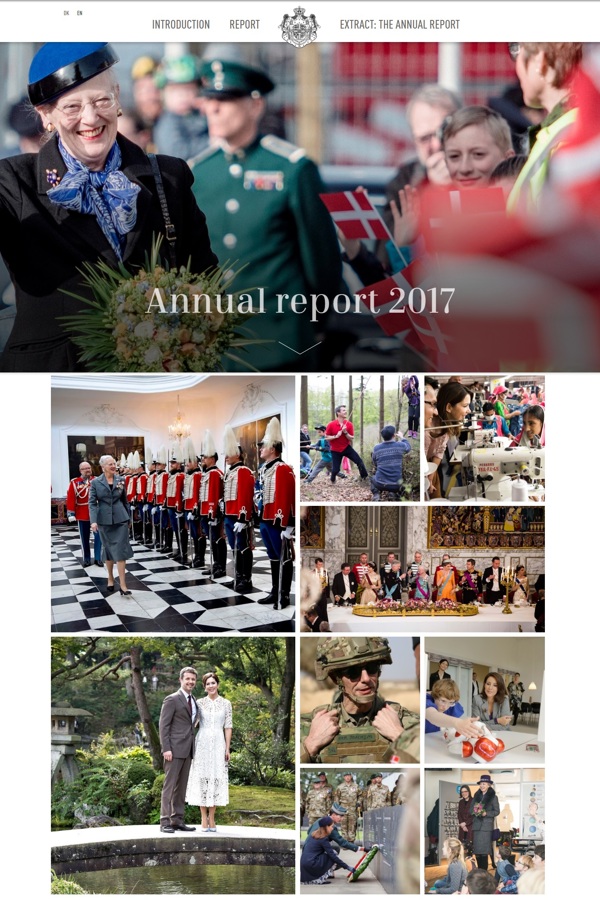 As is shown by the annual report, there was a deficit of 2.8 million DKK in 2017. The result is carried over to net capital. The shortfall can be attributed to the extraordinary expenses the Royal Danish House incurred during the past year.
The annual report describes the official activities and doings of HM The Queen and the royal family and gives an account of the Royal Danish House's finances in 2017. In the past year, the royal family participated in more than 700 official events in the areas of business and culture, humanitarian and social initiatives, sport and health, the defence, research and education, and foundation and award distributions.
The royal family was also active outside of Denmark. In 2017, The Queen carried out her 53rd outward-bound state visit with a trip to Ghana. TRH The Crown Prince and The Crown Princess led Danish business and culture promotional campaigns in Sweden and Japan. HRH Prince Joachim travelled with CARE Danmark to Nepal, and HRH Princess Marie visited Greenland with Autism Denmark. In India, HRH Princess Benedikte took part in the international conference of the World Association of Girl Guides and Girl Scouts.
In seven theme articles, it is also possible to delve into a selection of the royal family's engagements. One can read about Aarhus as European Capital of Culture, The Crown Prince's role in the IOC, The Mary Foundation's 10th anniversary, Prince Joachim's journey to Nepal, Princess Marie's fight against food waste and Princess Benedikte's engagement in the Scouting movement.