The Royal Loge in The Royal Danish Theatre is newly restored for the 50th Jubilee of HM The Queen's Accession to the Throne
HM The Queen's loge in The Royal Danish Theatre – also called the Royal Loge – has undergone an extensive restoration in connection with the Jubilee of The Queen's Accession to the Throne and now appears in its original form.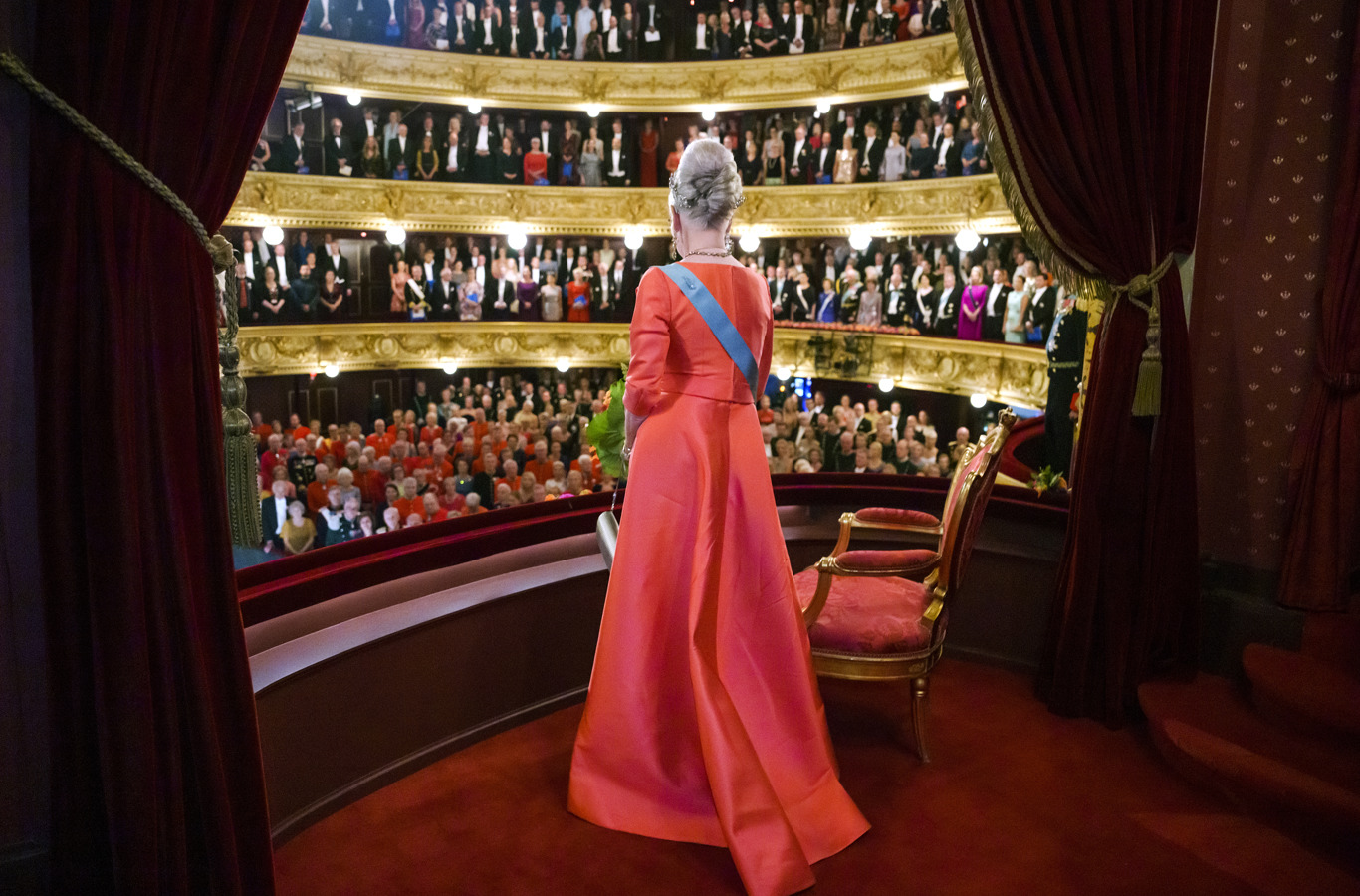 It will be a completely refurbished royal loge that The Queen will enter when the jubilee of Her Majesty's accession to the throne is celebrated on 10 September 2022 with a command performance at The Royal Danish Theatre. The loge's chambers and entrance area as well as the richly decorated balcony foyer have undergone an extensive restoration, so the historic spaces now appear with their original expressions.  
The Royal Loge itself is simply decorated in red and gold, while The Queen's chambers are painted with light and fine ornamentation inspired by Pompeian decorations. The ceiling is decorated with Her Majesty's monogram and blue medallions, and the walls are covered with silk tapestry. The entrance to the Queen's room with vestibule is richly decorated, with walls that imitate marble in various nuances and a ceiling with meander patterns and flower vines.
The balcony foyer is decorated in imitation Renaissance style. The ceiling consists of coffers with figures and ornaments in stucco on a gilded base. Three large crystal chandeliers hang from the ceiling, and gilded elements cover the walls and ceiling. The partitioned walls are decorated with marbling and intarsia, and the space is additionally furnished with busts of leading Danish theatre figures, such as a copy of sculptor Villem Bissen's marble statue of the actress Johanne Luise Heiberg, which was given to the theatre in 1892.
Historically, loges are known from theatres and churches. They could belong to the nobility and the wealthiest in society, and the finest ones belonged to the king. A royal loge can be found, for example, in Roskilde Cathedral, though it has not been in use for generations. Similarly, a loge has been reserved for the Royal House of Denmark in The Church of Holmen, but, as a churchgoer, The Queen has chosen to sit on the pews in line with all of the other churchgoers.
Renovation of the historic space has been carried out in close cooperation with The Royal Building Inspector  and the Royal Danish Theatre with help from the National Museum of Denmark and a wide range of specialists in the area.  
Three foundations, VILLUM FONDEN and Aage og Johanne Louis-Hansens Fond and Knud Højgaards Fond, have joined together to support the project so that the royal loge, the royal chambers and the balcony foyer could be ready as a gift for The Queen and the public in connection with the jubilee of The Queen's accession to the throne.