New Greenlandic and Faroese postage stamps
In Greenland and on the Faroe Islands, the 50th anniversary of HM The Queen's accession to the throne is being marked among other ways with new postage stamps. The creation of the two stamps has been extensive, and techniques dating back 1000 years have been used in the process.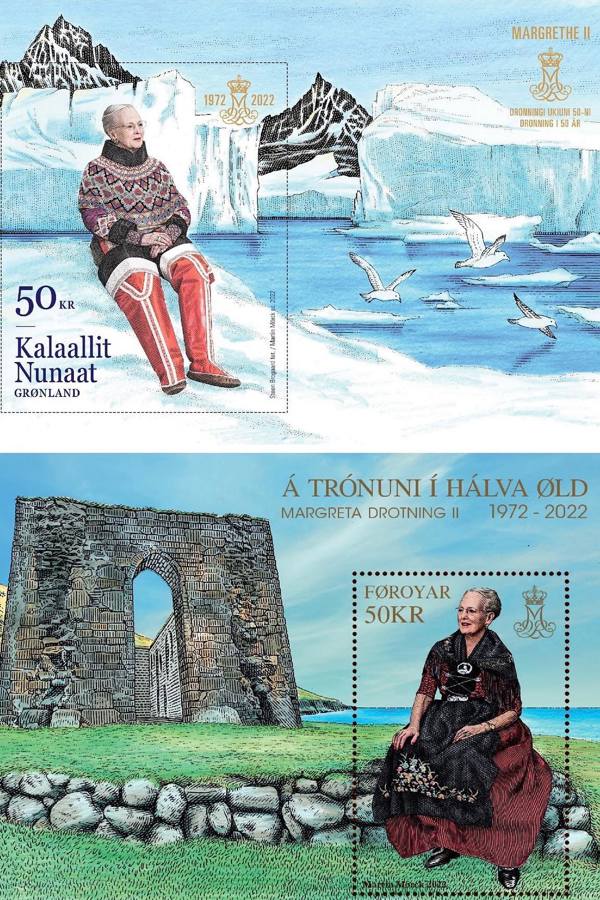 The production of the stamps began in the spring of 2021, when The Queen was photographed in her Greenlandic and Faroese national costumes. The pictures of The Queen were taken by photographer Steen Brogaard in the Dome Hall at Fredensborg Palace, and months of work subsequently awaited illustrator and engraver Martin Mörck, who first created the expressions of the stamps and then engraved the final motifs into steel in a 1:1 ratio. This technique and work method with image creation goes all the way back to the High Middle Ages.
The Greenlandic stamp depicts The Queen by a fjord with icebergs in the background, and the Faroese stamp shows Her Majesty by the ruins of St. Magnus Cathedral in the village Kirkjubøur on the island Streymoy. The stamps are issued by the Government of Greenland-owned telecom, Internet and postal service provider Tusass and the Faroese postal system Posta, respectively. Through the years, The Queen and members of the Royal Family have been motifs on a number of Greenlandic and Faroese stamps, and, in addition to that, special events in the Royal House of Denmark have been marked with issuance of stamps in the two lands on several occasions.
The postage stamps, which are issued in mini-sheets, can be purchased as of 14 January 2022.