H.M. Dronningens tale ved gallataffel i Accra
H.M. Dronningens tale ved gallataffel i Accra den 23. november 2017 i anledning af statsbesøg i Ghana.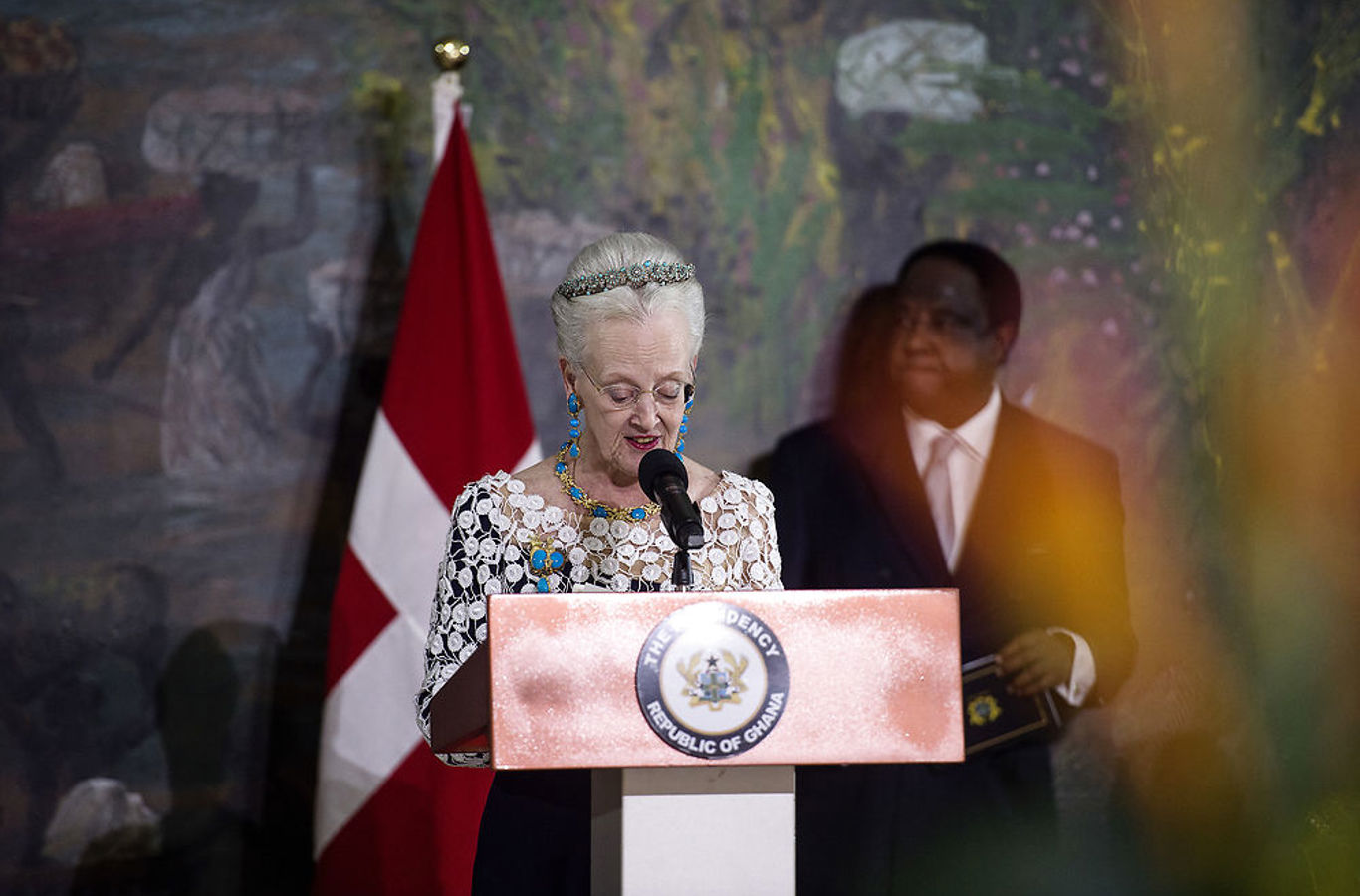 Mr. President, Mr. Vice-President, Mrs. Samira Bawumia, Speaker of Parliament, Chief-Justice, Minister for Foreign Affairs and Regional Integration, and other Ministers and Ministers of State,
May I first of all express my sincere appreciation for the invitation to visit Ghana. I have been looking forward to this important event, and it has been a great pleasure to experience the warm welcome I have received.
I am delighted by the opportunity to visit Ghana in this historical year. 2017 marks the 60th anniversary since Ghana as the first country in Sub-Saharan Africa won her independence.
Ghana's resilient democratic structures - respect for human rights, a free press, and the rule of law - set an important example for the region. In Denmark we have been especially pleased to follow last year's free and fair elections and the peaceful manner in which government power made the transition from one democratically elected President to another. The unambiguous support of the Ghanaian people to democracy is a cause for great optimism on your nation's behalf.
Mr. President,
Denmark opened its first Embassy in Ghana in 1961, shortly after your country gained her independence. Our common past, however, dates back far longer, and testimonies of our shared cultural heritage are visible on several locations in the country. Today, I visited Osu Castle, formerly known as Christiansborg Castle. It is always a special pleasure in a far distant country to meet with a familiar Danish feature: Over the entrance to the castle I recognized the monogram of the Danish King Christian VII, a cypher very familiar to me. I see it frequently on buildings of the 18th century and even on some of the objects in daily use in our household since generations. Christiansborg Castle is an important monument of past as well as contemporary history, first serving as headquarters for Danish Governors from late 17th Century to 1850, and after Independence as the seat of the Presidents of Ghana. The restoration of Frederiksgave in 2007, which was undertaken in cooperation with the Danish National Museum, is another testimony of our common past. It has been a pleasure for me to learn of the renaissance of this significant landmark, and of the efforts dedicated to preserve important cultural heritage through comprehensive archaeological excavation.
Mr. President,
For many years, our relations have been centered on development cooperation, in which we are longstanding partners and have worked together for the advancement of Ghana. Through our cooperation on health, water and sanitation, good governance, and development of the private sector, we have forged a trusted partnership which today not only covers development cooperation, but also political cooperation on a broad range of issues to which our two nations attach great importance.
On my visit today to the Art & Design Institute in Accra, it was a great pleasure to experience first-hand how Danish private sector support has helped strengthen the vocational skills of young people. By educating students in artisanship and design, they are better prepared to create innovative products and ideas that the success of future businesses build upon. I was particularly impressed by the visions and dedication of the founder of the institute, and I find it a great example of how local art and culture – with the right amount of dedication and entrepreneurship – can contain sustainable commercial potential.
Over the years of cooperation, it has been encouraging to witness the progress that your nation has achieved. Ghana has recently graduated to the group of lower middle-income countries, and the growing middle class is an indicator of the sustained social and economic progress that Ghana is experiencing. Denmark is proud to have stood with you during this journey and of having contributed to the foundation on which you stand today.
Yet, Ghana's development also means that our relationship is changing. Danish development cooperation is gradually being phased out and replaced by cooperation concentrating on trade and investments. It is my hope that we can use the occasion of this State Visit to confirm and further strengthen mutually beneficial partnerships centered on investment and business opportunities. The close cooperation between our respective authorities and the presence in Ghana of the Danish Investment Fund for Developing Countries, Denmark's Export Credit Agency, and the Mixed Credits will continue to assist in facilitating these business opportunities.
I am, therefore, pleased to be accompanied by a business delegation of 38 Danish companies offering innovative solutions to the challenges facing Ghana across several sectors. Danish companies can offer capacity and know-how, not least in sectors such as sustainable energy, energy efficiency, food technology and safety, infrastructure and maritime facilities. Both our countries have much to gain from partnerships that will bring investments to Ghana and contribute to social and economic development.
Mr. President,
It is my profound wish and expectation that this state visit will further strengthen the friendship between our two nations as well as our commercial, political and cultural ties. I wish Ghana and the Ghanaian people happiness and prosperity.
With these words I raise my glass to the President of the Republic of Ghana, Nana Addo Dankwa Akufo-Addo.